The California Darner is small (for a darner) and flies earlier in the year than most other Nebraska darners. It is uncommon in the state and has only been found in the northwest corner of Nebraska. The face has a black cross line and the eyes are bright blue. The thorax has small frontal spots and the thoracic stripes are straight and narrow. The claspers are of the simple type. Females may have blue markings, similar to the male, or green markings.

This is a western species barely reaching the northwest corner of Nebraska.It has been found south of Chadron in Dawes County in 1979,in Sowbelly Canyon, Sioux County, in 1999, and in Hat Creek Badlands, SiouxCounty, in 2000. In 2013 they werefound at a pond in the Monroe Canyon area of Sioux County, and Fred Sibley found them common at the same pond inearly June 2014. It is common just to the north in the Black Hills and evidently isa regular resident species in the northwest corner of state. The rarity ofreports is possibly due to the difficulty of collecting it and thedifficulty of separating it from the abundant Blue-eyed Darner. Both areearly season species with bright blue eyes, which occupy the samehabitat. California Darner is slightly smaller, usually flies closer to water than Blue-eyed Darner and is more likely to be flying in the cattails rather than over open water.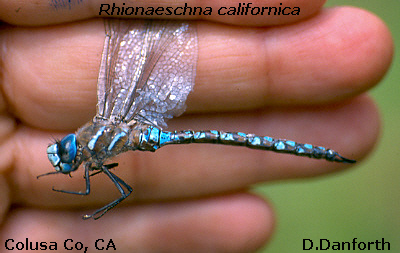 California Darner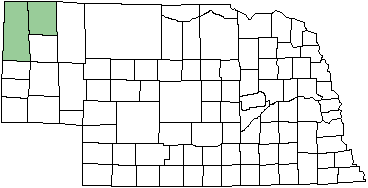 Green indicates accepted county record (specimen or photograph).
Yellow indicates sight record only.
Size: 57-61 mm (2.2-2.5 in)
Habitat: ponds, lakes and marshes
Great Plains Range: NE, SD, CO, WY, MT
Flight season: late May to mid June