The Shadow Darner male has paddle (wedge) shaped appendages. This species has straight thoracic stripes with a small backwards projection, giving them a 'walking cane' appearance. It also has no face stripes and very small blue abdominal spots. It flies late in the afternoon into the evening and prefers shade. Females usually have green markings on the thorax and abdomen.

Uncommon. This transcontinental species recorded commonly in Iowa and Kansas has limited records in Nebraska, North and South Dakota, Wyoming and Montana. The few records from Nebraska are concentrated, as for Variable Darner, on the eastern edge and in the northwestern portion of state - those counties close to Iowa and the Black Hills. Recent records from Heron Haven, Douglas County, would suggest both Variable Darner and Shadow Darner are usually short-term visitors, of a few days to a week.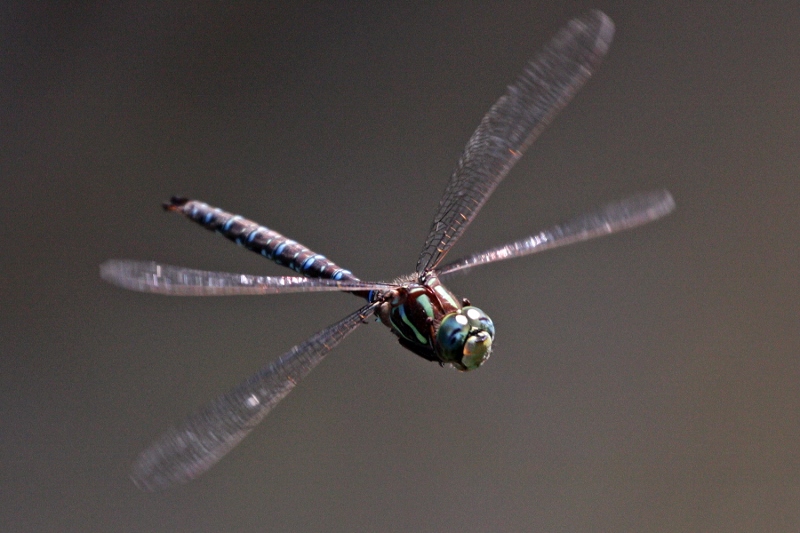 Shadow Darner male. Photo courtesy of Terry Hibbitts.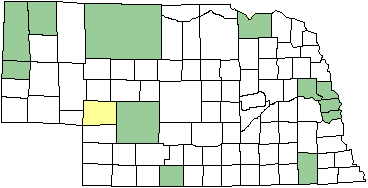 Green indicates accepted county record (specimen or photograph).
Yellow indicates sight record only.
Size: 68-78 mm (2.7-3.1 in)
Habitat: shaded ponds and slow streams
Great Plains Range: TX, OK, KS, NE, SD, ND, NM, CO, WY, MT, MO, IA, MN
Flight season: mid July to early October