The Cyrano Darner is named for its long, protruding, greenish forehead, reminiscent of the long nose of literary character Cyrano de Bergerac. The male also has a tapered abdomen, dark blue eyes and a dark brown thorax with green stripes. The male characteristically flies slowly along the water's edge in the morning with wings held up at an angle, often flying through overhanging grasses and branches. Females have a cylindrical rather than tapered abdomen. Both sexes have a rather stocky body compared to other darners.

It is rare and the only member of its genus. It is an eastern species extending west to central Kansas andcentral Iowa but barely reaching southern Nebraska. The first staterecords were collected in July of 2005 at Rockford Lake southeast of Beatrice in Gage County and at Rock Creek Station SHP in Jefferson County. The two records are both from slow, sluggish, heavily shaded streams. A sight record from the heavily shaded end of a borrow pit near WestPoint, Cuming County, and another along a small sandy stream in openfarm land in Pawnee County (Turkey Creek) would indicate this is aregular species in the southeastern part of state. The characteristic slow fluttering flight of this species is often a help in identification.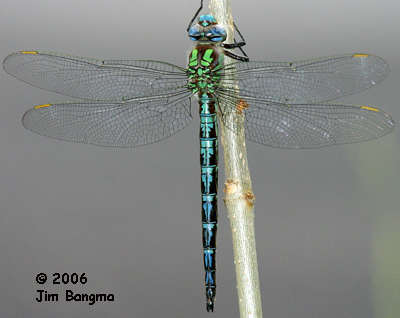 Cyrano Darner male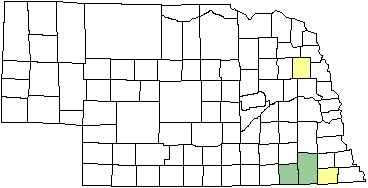 Green indicates accepted county record (specimen or photograph).
Yellow indicates sight record only.
Size: 70-73 mm (2.8-2.9 in)
Habitat: swampy streams, lakes and ponds
Great Plains Range: TX, OK, KS, NE, MO, IA, MN
Flight season: July