The Sulfur-tipped Clubtail is a striking black and yellow dragonfly. Its thorax is black, with bright yellow-green markings, and its club (abdominal segments 7 to 9) is mostly yellow, becoming rusty in older males. The legs are pale and the eyes are blue. It usually perches horizontally on the ground, logs or vegetation. The female has no club and the sides of her abdominal segments 1 and 2 are yellow. It is similar in appearance to the Pronghorn and Plains Clubtails, both of which are darker.

Fairly common. This is a midwestern species going from southern Texasthrough Oklahoma and Kansas to southern Nebraska. It is a pond species which is sometimes very common (at Rock Creek Lake in Dundy County on July2, 2009, there were over 20 at the edge of the lake). It has now been recorded in numerous counties from the Missouri to the Panhandle and north into the Sandhills.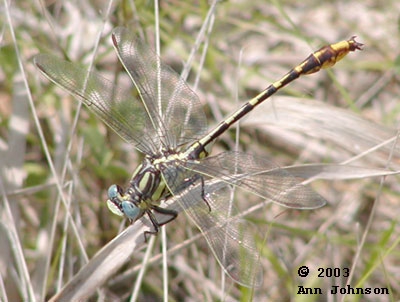 Sulfur-tipped Clubtail male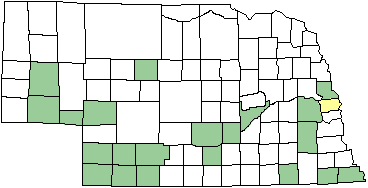 Green indicates accepted county record (specimen or photograph).
Yellow indicates sight record only.
Size: 47-53 mm (1.9-2.1 in)
Habitat: ponds, lakes and slow streams
Great Plains Range: TX, OK, KS, NE, NM, CO, MO, IA
Flight season: early June to late July