The Flag-tailed Spinyleg is a brightly-colored clubtailed dragonfly with long, spiny hind legs. Its orangish club looks large when seen from the side (flag-like), but is compressed so that it does not appear so large when seen from the top. This species has a greenish-yellow thorax with dark stripes, and its abdomen is ringed with black. The male may perch on vegetation or on rocks at the water's edge. The female is similar to the male, but with a lighter abdomen and smaller club.
Rare. This is a Midwestern species found from western Ohio to eastern Kansas and south to the Gulf of Mexico with northern Iowa being the northern limit of the range. One exuvia (identified by Ken Tennessen and in his collection) was found in Cass County at a small fishing lake near the campground in Mahoney SP, on July 26, 2006. On August 3, 2014, Brian Peterson caught a female in Dodge County at the Fremont Lakes SRA (Peterson, 2014). Both records are at the western edge of the range. There may be a resident population of this late season species in eastern Nebraska but limited time has been spent checking Nebraska in late July and August.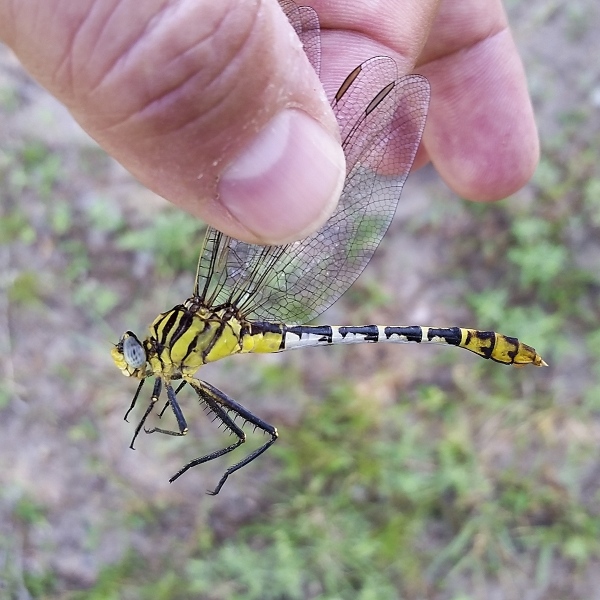 Flag-tailed Spinyleg female, photo by Brian Peterson
Green indicates accepted county record (specimen or photograph).
Yellow indicates sight record only.
Size: 56-65 mm (2.2-2.6 in)
Habitat: slow rivers and streams, large ponds
Great Plains Range: TX, OK, KS, NE, MO, IA
Flight season: late July to early August