The Prince Baskettail (subgenus Epicordulia) is a large, elegant species which cannot be confused with the other Nebraska baskettails. The abdomen is slender and the adult male has metallic green eyes. It sometimes has brown spots at the base, middle and tip of each wing. The male patrols almost incessantly and is seldom seen perching. Both the male and female are brown all over without obvious stripes or other markings.

This is a common eastern species extending west to central Nebraska,central Kansas and western Oklahoma. It is widespread in the easterntwo-thirds of Nebraska and is to be expected in all counties in this area.It is often found over lawns and fields away from water, but at the ponds it usually patrols the edge beyond net range. It is much larger than theother baskettails.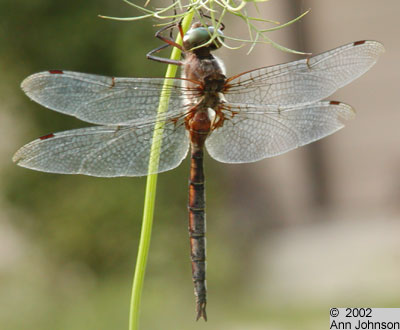 Prince Baskettail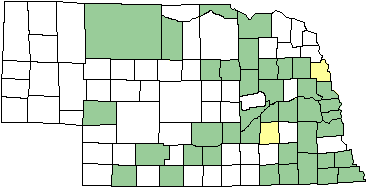 Green indicates accepted county record (specimen or photograph).
Yellow indicates sight record only.
Size: 58-78 mm (2.3-3.1 in)
Habitat: ponds, lakes and slow streams
Great Plains Range: TX, OK, KS, NE, MO, IA, MN
Flight season: late June to late August