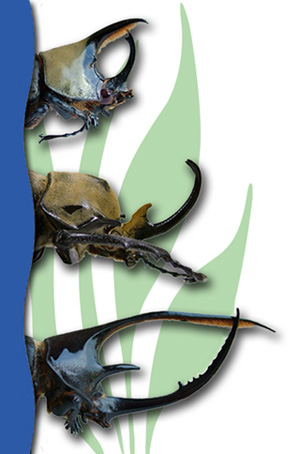 Besides the stunning coloration of some jewel-like scarabs, another remarkable feature is the presence of horns.
X
Horns are strong, projected structures that many scarabs have on their heads or on the topside of their thorax. Some horns are so impressive that they make scarabs look like mythical creatures, or like the Triceratops dinosaur, or even like the mighty rhinoceros of our time.
X
But, what are these horns for? Horns are weapons used by males to fight each other for ownership of a food site or a burrow, which then attacts a female. Males battle on top of branches, within tunnels inside plants, or inside underground burrows. They fight each other by using their horns like a pair of tweezers, grabbing the enemy by the body and throwing him off the branch; or like rams in a fight of strength where the loser ends up-side-down and leaves the premises, and the female is left to the winner.

Not all the males within the same species have the same horn size. Some males have small horns or even no horns at all, and other males have big and well-developed horns. Usually the winner of the battle is the one with bigger horns. Scientists say that horn size probably depends on food quality while in the larval stage, changes in the conditions of their environment, or heredity from their parents.
X
But whether they are big or small, scarab horns are definitely some of the most amazing animal structures in the whole wide world. Not even the large mammals with horns, like cows, deer, or antelopes, can compete with the bizarre and striking shapes of scarab horns.