.
.
Larval Workshop
August 1999
Brett Ratcliffe
.
As part of our PEET research and student training, Team Scarab engaged in a workshop to study larval scarabs. Dr. Miguel Morón, from the Institute of Ecology in Xalapa, Mexico, and a specialist on scarab larvae, helped to lead the workshop. Estefanía Micó, a PhD student studying scarabs from the University of Alicante in Spain, a visiting researcher in our lab for three months, participated as well. We anticipate that 6-10 papers that describe scarab larvae and provide new keys will result from the workshop.
..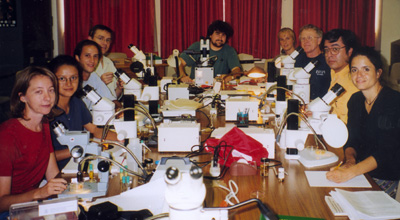 Larval workshop at the University of Nebraska State Museum, August 1999.
From the left: Estefanía Micó, Aura Paucar, Federico Ocampo, Gene Hall, Andrew Smith,
Mary Liz Jameson, Brett Ratcliffe, Miguel Morón, and Karla Villatoro. Photo by Cliff Lemen.