The Dynastine Scarab Beetles of Mexico, Guatemala, and Belize
(Coleoptera: Scarabaeidae: Dynastinae)
.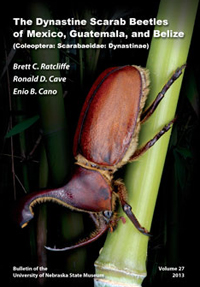 .
Abstract

The 198 species of dynastine scarab beetles that occur in Mexico, Guatemala, and Belize are comprehensively reviewed. Keys in English and Spanish, descriptions, geographic and temporal distributions, notes on natural history, 885 numbered illustrations, numerous other illustrations, and maps are provided for all species. Also included are synopses of the habitats in each of the three countries and higher-level taxa, a tabular review of all the Dynastinae occurring in Mesoamerica, a glossary, a species checklist, and extensive references. The book is hard bound and all in color.
______________________________________________________________________________________
Ratcliffe B. C., R. D. Cave, and E. B. Cano. 2013. The Dynastine Scarab Beetles of Mexico, Guatemala, and Belize (Coleoptera: Scarabaeidae: Dynastinae). Volume 27. 666 pages. Order ID: B-27-1.

COST OF BOOK
$75.00 (+ $5 Shipping/Handling, PLEASE enquire for international cost).
Print the order form and return by mail or fax to:
Gail Littrell, Publications Secretary
W436 Nebraska Hall,
University of Nebraska
Lincoln, NE 68588-0514, U.S.A.
EMAIL: glittrell1@unl.edu
FAX: (402) 472-8949
Credit cards (preferred) or checks accepted.